European testimonials
"For the EU-China relations it is central that we continue to exchange information and best practices on experiences in setting up and implementing cohesion policy.  Learning from each other is very important (…). The EP supports the global exchange of views on regional policy in a Pilot Project." MEP Lambert van Nistelrooij (see picture above), Coordinator EPP Group, Committee on Regional Development.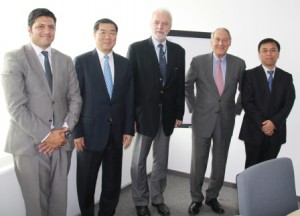 "The European Parliament play a crucial role in promoting the exchange of experience and best practices between the European Union and China on the theme of territorial development. The "One Belt One Road" Strategy towards developing a new Silk-Road offers good cooperation chance for both sides and the World Cities project offers a good platform for cities to fill this framework with concrete projects".
MEP Jan Olbrycht, Chairman of the European's Parliament's Urban Group.
"Venlo actively promotes relations with China and can benefit a lot from Chinese experience and investment interests especially on the horticultural industry." Mr Kees van Rooij, Mayor of the City Horst aan de Maas and Head of Region Venlo Policy Board
"Similar to China, we have a macro-regional development strategy along a river basin – the Odre. We look forward to seeing how China coordinates different regions and uses the specific potentials" Mr Thomas Walczak, Administration for Economy, Technology and Research, Federal State of Berlin
"We strongly support relations with China and are confident that these will create and secure jobs in France. The Sino-European Terraloraine project is a crucial step in this direction." Mr Patrick Weiten, President of the Moselle Department Council.
"I was delighted to see the interest of Chinese experts on the multi-level governance of cohesion policy in Lombardy. I look very much forward to strengthening relations with China, also within the Expo 2015 in Milano". Ms Olivia Director of the ROP Lombardy at the Regional Government of Lombardy
"Latvia has achieved remarkable goals with support of Cohesion policy. We appreciate the visit of regional development experts to foster cooperation with China". Mr Aleksander Antonovs, Deputy Secretary of State at the Ministry of Finance, Latvia
"During the field visits we came to know some good examples (…). Starting points for future cooperation should be on the field of qualifying the human capital in the structurally weaker regions, digging for and developing those regional competences which are worth to be brought to a global (tourism), provincial/regional (e.g. food) or local market or strengthening regional mid-size cities and townships (…). In the second line there is a need to transfer information and good practices how to steer urban development in rapidly growing cities like Nanning or Beihai. The old-industrial countries like Germany or UK are well equipped with experiences and know how to manage growth, although the threats and challenges in China are tremendous". Mr Guido Sempell, State Ministry for Urban Development and Environment, City of Hamburg, Germany.
"The Chinese have little time between decision and realisation. We, Europeans envy this. On the other hand the Chinese sometimes lack the essential insights in the consequences of their decisions. Also finding ways for governance is an important item and may improve the quality and effectiveness of their decisions. (…) Regional and urban planning methods of Europe could be exchanged to give the Chinese tools of more effective planning and avoid the mistakes, we made in Europe during the last decades when first urbanisation and the suburbanisation took place". Mr Anne Joustra, Managing Director, CityRegio Amsterdam.
Testimonials by European participants 2015-2016
"As with previous world cities events the trip to Chengdu and Shantou was very beneficial for myself and the companies that travelled with me. All had useful meetings and identified potential opportunities that they are now pursuing. The trip has allowed links to be further strengthened between the West Midlands and Tianjin and Guangzhou; a mission will take place from the West Midlands to these cities at the end of September with 15 organisations spending a week in China."
Mark Schneider. European Service. West Midlands.UK
"Cette mission était très politique, nous avons tout de même fait quelques contacts intéressants à approfondir. Nous sommes par contre totalement conscients que c'est une étape importante dans le processus de crédibilisation auprès des autorités et entreprises chinoises. Cela nous a permis de cerner le marché de la robotique de service en Chine. C'est un marché pas encore mature, les entreprises chinoises n'en sont qu'encore à des étapes de R&D : Nous sommes dans les temps et sur les même rails. Par contre, j'ai senti les entreprises de robotique chinoises très aidés et accompagnés par le gouvernement. Nous le sommes moins en France, c'est un peu dommage, nous risquons de prendre du retard par rapport à elles…" Marwin Sorce, Evotion Robotics Lyon
"Plus largement, ce que je retiens de cette mission est l'opportunité qui nous a été donné de :
1. Participer activement au rayonnement international de Lyon, notamment en matière des smart cities
2. Rencontrer des autorités chinoises compétentes et de très haut niveau qui sont cléfs dans ce pays pour nous ouvrir des portes business
3. Faire connaître notre savoir-faire innovant en matière de simulation et modélisation 3D à d'autres membres de la délégation, ainsi qu'à des autorités et entreprises chinoises.
4. Etre mis en relation directe avec des décideurs porteurs de projets pour lesquels les compétences de ForCity peuvent avoir des applications concrètes. Parmi les opportunités détectées :
– Grand projet de développement de "New Tianfu Area" (+1,500 km2, +5M d'hab. supplémentaires) à Chengu, Chine
– Projet d'éco-quartier franco-chinois à Chengdu, Chine
– Projets de transport urbain à Barcelone, Espagne
– Projet de réseau de chaleur à l'University de Keele au Royaume-Uni
5. Présenter la société et discuter longuement avec des membres de la Commission Européenne, basés à Bruxelles ou Beijing et directement en charge des sujets de financements régionaux. ForCity sera amené à participer à des consortiums fortement dépendants de ces dispositifs.
6. Interagir et échanger constamment avec d'autres start-ups européennes.
Nous sommes ravis d'avoir fait partie de cette mission, enrichissante et prometteuse. Enfin, pour moi, cela a été la découverte d'une culture extrêmement riche et passionnante. J'ai également appris davantage des autres pays/villes membres de la délégation (Espagne, Irlande, UK)."
Weina Grand. Advisor for mainland China, HK, SGP, TW affairs. Lyon (France).
"As a start-up working in the smart cities field, the EU's World Cities Project represented a unique opportunity to present our innovative solutions to local authorities and companies in China. The interaction with the other European members of the delegation was also very enriching. We are convinced that this trip will pave the way for exciting collaboration in a region facing great urban challenges."
Silvia Valenzuela. Business developer. ForCity. Lyon (France)
"The World Cities program has proved to be an effective way not only to network with fellow European institutions and Chinese cities, but also to turn potential opportunities into tangible results. The MoU that was signed between Fira Barcelona and the city of Chengdu is a perfect example."
Alberto Martín. Head of Asia Pacific & Midle East. Smart City Expo World Congress. Barcelona (Spain)
 Some Chinese testimonials:
"The capacity building programme has achieved very good results and we hope to continue it". Mr Fan Hengshan, General-Director Regional Economy, NDRC Beijing
"The European experiences that we visited can increase Chinese efforts towards strengthening innovation and clusters through regional policy, especially for those regions lagging behind" Mr Sun Guanglun, Director at the Department of Regional Economy, NDRC Beijing
"Dutch authorities in Limburg recognized that coal mining was no longer optimal for a sustainable regional development. Their decision to shift towards innovative industries is inspiring for us". Mr Xun Zhiqian, Director at Hebei Provincial Development and Reform Commission
"Tibet receives great support from other the central government and other provinces. I learnt that the cohesion policy approach to tackle disparities in Europe that is very interesting for China". Mr Zhang Jianjun, Deputy Director, Xizang (Tibet) Development and Reform Commission
"Before I came to Europe, I hea rd only about crisis. However, after visiting best practices in Germany, France, Sweden, Latvia and Netherlands I see that the open triple helix cooperation is a reality in both prosperous and convergence regions in the EU. This is very inspiring for China". Mr Qu Yawen, Programme Officer at Xinjiang Development and Reform Commission
"Adaptation strategies to the climate change set major challenges for China. I hope that my province can further cooperate with the European Union on innovative answers". Ms Feng Yan, Director at Hainan Provincial Development and Reform Commission
"Cross-border cooperation schemes in the EU are similar to the inter-provincial cooperation in China. The EU hast useful experiences for China, especially regarding the management of funds" Mr Yang Qiang, Chongqing Development and Reform Commission
"Every European region that we visited had its own tailor-made development strategy. It is inspiring to see how Europe's 2020 Strategy sets the framework to strengthen coordination." Mr Du Changxiu, Deputy Director at Anhui Provincial Development and Reform Commission
"Jiangsu has many research resources but we lack of an effective mechanism of cooperation with business and government. We should learn from the experiences we have seen in Europe, also regarding cross-border cooperation." Mr Wang Min, Programme Officer at Jiangsu Provincial Development and Reform Commission
"The EU has a lot of good approaches and experiences in regional policies that Zhejiang should learn and use for reference. Zhejiang is willing to strengthen communication with the EU in regional policies". Mr Liu Ting, Zhejiang Provincial Development and Reform Commission
"We appreciate the chance of showing European experts the great achievements in urban green development in Tianjin." Mr Li Bin, Deputy General Manager, Tianjin Eco-City