Overview
Shantou is located in the east of Guangdong Province (440km from the provincial capital Guangzhou City) and in the south of the Hanjiang River Delta. The city has a total area of 2.064km2 with a population of 5.271.100 inhabitants. Its urban area covers 1.956km2 with a population of 5.167.400 inhabitants. Shantou City has jurisdiction over Nan'ao County and the six districts of Jinping, Longhu, Chenghai, Chaoyang and Chaonan.
Topographically, Shantou is primarily composed of alluvial delta plains which account for 63.62% of the total area of the city, following by 30.40% of hilly mountains and 5.98% of tablelands.
Smart City Development
Shantou is one of 2015 Demonstration Cities (City Clusters) of "Broadband China" in Guangdong Province. The period of creating such cities is 3 years. MIIT and NDRC will give priority support to the cities in the experimentation and demonstration projects of new technologies and new services of information and communication. The main goal is to build a "Smart Shantou" as an important gateway of the information-oriented "Maritime Silk Road" in the 21st century. NDRC Shantou has therefore developed a plan to noticeably narrow the gap between urban and rural broadband facilities and accomplish the development objective of "gigabyte for enterprises, megabytes for homes, all-round coverage of wireless broadband" in urban areas and "optical fibers reaching every village, broadband reaching every home" in rural areas to form a satisfactory environment for broadband development.
Environmental technologies
In November 2015, Shantou City Council launched the Leidashi Eco-environmental Industrial Park. which involves three environmental projects with a total investment of 900 million yuan. The projects, Leidashi Green Power Plant, Leidashi Waste Sanitary Landfill expansion and a centralized disposal for urban sludge are now construction.
The Leidashi Eco-environmental Industrial Park is located in Leidashi area of Tuolian Street, Jinping District, covering about 720 acres, with a total investment of about 1.2 billion yuan, which is Shantou's first sustainable recycling environmental industry park. Leidashi Green Power Plant is planned to put into operation in 2017, with more than 400,000 tons of residential garbage treatment, and about 120 million kWh into the grid, which will completely solve the problem of city garbage. The Leidashi garbage sanitary landfill expansion project is planned to be completed late 2016, which will effectively alleviate the problem of downtown garbage disposal, and solve the problem of fly ash and slags of the Green Power Plant. The downtown sludge disposal project treats the sludge from a sewage treatment plant with mature technology of sludge drying and incineration, with a total construction scale of 600 tons per day.
Climate
The annual rainfall in the city is 1,300 to 1,800 millimeters, and the raining season extends from April to September. The average annual temperature is 21℃ to 22℃ with the lowest temperature above 0℃ and the highest temperature ranging from 36℃ to 40℃, which are usually recorded in mid July and early August when the city is under the influences of the subtropical high pressure zone of the Pacific Ocean. Occasional frosty weather is also recorded in winter in Shantou.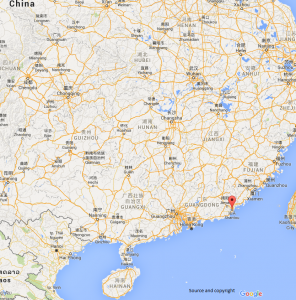 More information available here.