Programme Overview
The training session contained a relevant mix of workshops, lectures and field visits. Participants flew from Beijing to Munich. On arrival in Europe, participants absolved field visits in Upper Austria and in the Free State of Thuringia (Germany), a region that had been proposed by the Development and Reform Commission Guangzhou. Here they explored possibilities of decentralised cooperation between the cities of Jena and Guangzhou.
Summary of the working sessions
The working sessions in Linz included meetings at the Technology Agency of Upper Austria (TMG) and visits to innovative companies in Linz. Mr Bruno Lindorfer, CEO at the TMG, explained some basic facts about the region. Upper Austria is one of the wealthiest regions of Europe and has an unemployment rate of 4.7%. The region has highly qualified and motivated personnel, a strong industrial base (it is the leading Austrian region regarding technological export and patents), well balanced economic structure (mix branches & sizes). It is also a leading innovation region in Europe and its geographic position allows for efficient transport infrastructure. The region is also deeply integrated with Central and Eastern Europe.
Mr Lindorfer explained the regional innovation strategy that concentrates resources on six focus areas: mechatronics, information and communications technology, life sciences, innovative materials, logistics and energy. The TMG is a think tank and coordinator of activities of the region of Upper Austria regarding economic growth, prosperity and the creation of new jobs. As such, it is in charge of developing the strategic economic and research programme INNOVATIVE UPPER AUSTRIA 2020, with more than 50 Mio € annually regional investments on innovation projects. Mr Lindorfer also referred to the Agenda for Smart Specialisation and the close cooperation with the European Commission (DGs Enterprise, REGIO and ENERGY) and the great opportunities for collaboration on innovation with China. He then focussed on advanced manufacturing (also named Industrie 4.0 in Germany or Cyber Physical Systems – CSP – in the US) and the role of mechatronics in the region.
Chinese participants asked about the governance system of regional innovation in Upper Austria, the cooperation between companies and public bodies in defining the regional innovation strategies, the selection criteria for projects to be promoted through the regional agency, the internationalisation of clusters and the overall effect of public investment in the regional economy.
Mr Sun Guangxuan from NDRC introduced the delegation and the role of NDRC in regional policy in China. He focused his speech on the four key regional development plans for East, Central and West China as well as for upgrading industries in Eastern China. He mentioned that there are more than 1.000 special economic zones in China and over 100 at the level of the Guangzhou Development District (GDD) that is twinning with TMG.
Mr YU Yunzhou – Vice Director General of DRC Guangdong – introduced the province. With a surface equivalent to less than half of Germany (180.000 sq. km) and a population of 105 million, Guangdong is the most populated province of China. In 2013, the regional GDP was worth more than US$ 1.000 billion, with an annual growth rate of 8.5%, accounting for about 10% of the GDP of China. As the leading economy in China for the last 25 years, Guangdong province has surpassed the four countries that powered Asia's economic growth for decades – Singapore, Hong Kong, Taiwan and South Korea in terms of GDP. Mr YU noted that Guangdong has been promoting the industrial development and the process of industrialization, establishing a relatively complete industrial system. Advanced manufacturing industries such as shipbuilding, rail transit equipment, nuclear power equipment, wind power equipment and general purpose aircraft are booming and form part of the advanced manufacturing industrial system. Mr Yu mentioned that the reputation of 'Made in Guangdong' is worldwide famous and the Pearl River Delta has become a globally important high-technology industries manufacturing base. A dual-wheel drive economy consisting of advanced manufacturing industries and modern service industries is taking shape. Mr Yu noted that Guangdong has become the most export-oriented economic area. In 2013, total imports and exports exceeded US$ 1.091 billion, an increase of 10.9%. Up to the end of 2013, foreign direct investment actually utilized totalled more than US$ 300 billion, and more than 100 nations have invested in Guangdong Province. Enterprises of Guangdong Province have invested worldwide in more than 100 countries and regions. Mr YU was very much interested in cooperation with Upper Austria in the area of advance manufacturing and innovation.
Ms XU Fang from Guangzhou Development District (GDD) noted that Guangzhou is the capital city of Guangdong Province and one of the three biggest comprehensive gateway cities of China, with an administrative area of 7.434 km2 and a population of around 16 million. As the origin port of the Maritime Silk Road, GZ has always been the pioneer city of China's opening to the outside world and international trade. So far 49 countries have set up consulates-general in Guangzhou. Ms XU noted that the city is one of the key hubs in China in terms of international transportation and information (Guangzhou port ranked 3rd in China, Guangzhou Baiyun Airport is one of the three biggest hub airports in China). The provincial capital is also an important axe of China's high-tech industry development, with an industry output value of USD 102 billion and 1.389 certified high-tech companies. Guangzhou is one of the Chinese cities with most intensive intellectual resources (think tanks, national engineering labs, etc.).
Ms XU then focused on Guangzhou Development Area (GDD). Mr Li introduced the Guangzhou Development District (GDD), one of the first group state-level economic and technological development districts set up in China. With a total planned area of 78.92 square kilometers, GDD has the unique "four-in-one" administration system consisting of national Economic and Technological Development District, High-tech Industrial Development District, Free Trade Zone and Export Processing Zone. There are over 6.000 companies from more than 60 countries and regions investing in GDD, among which over 2.900 are foreign-invested projects and 112 are invested by Fortune 500 companies. GDD is a state-level innovative science-tech area, attracting 1258 companies and 386 R&D institutes. In 2012, the R&D investment volume accounted for 3.85% of GDP. Ms XU mentioned that more than 2000 overseas talents and students set up their business in GDD with over 700 newly established enterprises. In 2012, the Guangzhou Science Park reached the total business revenue of € 29 billion and a total industrial output of € 16.2 billion. She also stated that the Guangzhou International Biotech Island will cover an area of 1.8 square kilometers with functional clusters of industrial incubation area, R&D area and industrial service area, etc.
With regard to the economic cooperation with the European Union, Ms Xu noted that in 2013, the total business revenue of the EU-based companies in GDD reached RMB 25.954 billion with a year-on-year growth rate of 12%. GDD's import-export volume to EU reached US$ 3.825 billion with a year-on-year growth rate of 11.7%, whereas the export volume to the EU was US$ 1.886 billion accounting for 21.8% in GDD. The import volume from the EU was US$ 1.939 billion accounting for 3.4% of GDD. Ms Xu also referred to the GDD Innovation Relay Center, aiming at facilitating the knowledge flow and technology transfer. She also explained the Innovation Alliance of New High-tech Industry, focusing at establishing an industry-university-research cooperation system. He also mentioned that Local government's investment in science and technology grows constantly. Ms Xu also shown some examples of innovation centres at GDD, including the South China New Medicine Innovation Center and the Knowledge City that covers a planned area of 123 square kilometers with a 10-square-kilometer Start-up Area. The goal is to build a new highland for internationalized knowledge economy. Regarding GDD innovation with Europe, she mentioned the Sino-UK Biotech Bridge for international biotechnology and the cooperation with Sophia Antipolis in France. In November 2013, the Guangzhou Development District became a pilot area of the EU-China Regional Policy Cooperation.
The working sessions continued on the afternoon with a discussion between the Regional Minister of Economy, Dr. Michael Strugl, and selected Chines delegates. Both sides agreed on the signature of a LoI on regional economic cooperation between the Federal State of Upper Austria and the Guangdong Provincial Government, including business missions to Austria and Guangdong.
Chinese experts then visited the Linz Centre of Mechatronics (LCM), the leader in Austria when it comes to applied mechatronics research. Mr Markus Diebold noted that LCM sets new standards through intelligent networking of information technology, mechanics and electronics. He mentioned that LCM provides support and guidance for different industrial sectors including machinery, chemicals, car components and medical engineering. The company provides basic and advanced research and is able to manufacture prototypes and small batch sizes. With integrated hardware and software development for applications in simulation, product optimisation, measurement technology and data transmission, the more than 100 LCM experts design the products, systems and processes of the next generation, hand in hand with customers. LCM is owned by the University of Linz (30%), the Regional Government (25%), the Regional Industry Association (35%) and the Steel Company Voest Alpine (10%).
The next field visit took Chinese delegates to the Ars Electronica Futurelab. The lab brings together innovative people to reconfigure available knowledge, build bridges to art, and come up with concepts designed to facilitate interaction with the world of today and tomorrow. The staff includes experts in a wide array of disciplines at work on ideas that will exert a powerful effect on our future. Media art, architecture, design, interactive exhibitions, virtual reality and real-time graphics make up the Futurelab's inspiration pool. The range of services concentrates on expertise developed throughout the years in fields such as media art, architecture, design, interactive exhibitions, virtual reality and real-time graphics. Ars Electronica Linz GmbH is an enterprise of the City of Linz and is responsible for organising and producing the Ars Electronica Festival and the Prix Ars Electronica, as well as for operating the Ars Electronica Center and the Ars Electronica Futurelab. Funding is provided by the City of Linz, the Province of Upper Austria and the Republic of Austria.
Delegates then travelled to Grieskirchen to visit the family-run business Pöttinger Landtechnik. The company develops agricultural technology at the highest standard that supports all aspects of farming, including environmental, economic and social issues. The company has a turnover of € 300 million and employs 1.475 people mainly in Austria, Germany and the Czech Republic. It provides tractor-mounted, implement-mounted and trailed implements for use in tillage, drilling and harvesting technologies as well as the associated services. The exports' share is 84%, with only 6% overseas sales (including China). Pöttinger Landtechnik contributes to the regional innovation chain by supporting the Testing Institute TIZ, one of the most effectives of Europe. Chinese experts were then able to visit the TIZ, a joint venture of the Regional Economic Agency TMG, the local economic association of Grieskirchen and the Pöttinger Landtechnik. The TIZ provides offices, supports start-ups and future-oriented enterprises during the implementation of innovation projects and runs a high-quality institute for testing technology, specialized in dynamic endurance testing.
On the next day, Chinese delegates visited a best practice on innovative measures for energy saving through smart grids in the rural area of Eberstalzell. The regional electricity company Netz OÖ aims to increase the hosting capacity of LV networks based on intelligent planning, intelligent monitoring and active management and control using different communication infrastructures. Since rural grids are mainly planed in respect to voltage levels, smart metering provides an effective tool to regulate the energy consumption.
Chinese delegates finally held meetings with representatives of companies in Upper Austria that are interested in cooperating with China. At his speech, Mr Lukas Elmer from the Chamber of Commerce introduced his institution and the Export Center of Upper Austria. This joint initiative with the Government of Upper Austria was founded in 1999 and works hand in hand with the Austrian Foreign Trade as well as national and international associates. After this talk, three Austrian middle size companies from the automotive sector introduced their plan to cooperate in the Chinese market. The companies are currently looking to establish production site in China. They discussed with Chinese regional development delegates about the most attractive locations, eventual support for small/medium-size companies and support regarding analysis of opportunities and risks.
The meeting ended with the signature of a Letter of Intent between the TMG and the GDD on bilateral cooperation.
Delegates then travelled to Jena, to support a partnership between the City Administration and the Guangzhou Development District GDD. Jena is a worldwide famous high-tech location for optics and glassworks. This is the result of a cooperation between research institutes and the industrial companies including Jenoptik, Schott and Carl-Zeiss. Jena has a high share of highly qualified jobs and an industrial export figure of more than 40%. The city is home to several incubators, the Technology and Innovation Park, the Bioinstrumentation Centre and the Innovation and Founders' Laboratory for New Materials and Processes (IGWV). The range of scientific research is extremely wide, which can be traced back to the presence of all kinds of different institutes and scientific institutions. Jena is the location of a renowned university, the largest University of Applied Sciences in Thuringia and a large number of non-university institutes, meaning the city has an extensive urban network of scientific institutions working with research institutes all over Germany and the world.
Meetings in Jena started the Technology and Innovation Park Jena (TIP). The director of the park, Mr Randolf Margull, explained that since its founding in 1991, TIP has supported and promoted more than 220 young technology-oriented enterprises from the sectors of nano- and microsystems technology, sensor technology and optics, communication and software development as well as medical and environmental technology. TIP has two locations and one incubator offering a high degree of flexible usage and individual design possibilities. The Science Campus Beutenberg belonging to the University of Jena has an annual budget of € 142 Million and a total staff of 3.000 people. Discussions focused on specific research areas with high potential for cooperation with China as well as on support measures for SMEs and start-ups. Experts exchanged views on the incubation and acceleration of enterprises as well as on the innovation system in Jena and Guangzhou. The meeting was attended by Dr Minzhi Wu, CEO of the company Magnet World and President of the German-Chinese Association in Jena. Mr Wu introduced his innovative technology solutions (mainly industry magnets and magnet systems) and explained his cooperation with TIP and the City of Jena.
After this meetings, delegates visited the show room of Carl Zeiss in Jena and met the company's CEO. Zeiss is an international leader in the fields of optics and optoelectronics. It has been contributing to technological progress for more than 160 years – with solutions for the semiconductor, automotive and mechanical engineering industries, biomedical research and medical technology, as well as eyeglass lenses, camera and cine lenses, binoculars and planetariums.
Delegates then met the vice president of the University of Applied Sciences (EAH) in Jena, Prof. Dr.-Ing. Burkhard Schmager. EAH was founded 1991 as one of the first institutions of higher education of its kind in the newly founded federal states of Germany. Short periods of studying and a practical orientation complement the education at traditional universities and technical universities perfectly well. Currently, the eight departments of the Jena University of Applied Sciences offer a lot of Bachelor and Master programmes. The university cooperates with universities in Europe and beyond. There is also an intensive cooperation with the industry: world-famous companies like Zeiss, Jenoptik, Siemens, Bosch, and the industrial research institutions in Jena represent modern technology, up-to-date management and scientific innovation. The University offers a wide variety of study courses in eight departments covering engineering sciences, business administration and social sciences. At present, 4,700 students are enrolled at the EAH Jena nearly 10% of them are foreign students.
On the afternoon, Chinese delegates met the Lord Mayor of the City, Dr Albrecht Schröter. Together with further representatives of business and the regional government, Mr Schröter discussed with Chinese delegates about some governance issues as well as about concrete cooperation projects with China, especially with GDD. Mr Schröter then signed a Letter of Intent with the Director of GDD in order to establish bilateral cooperation activities. On the next day, Chinese delegates visited a best practice at the Vocational School Jena-Göschwitz (SBSZ).
Impressions
Meetings in Austria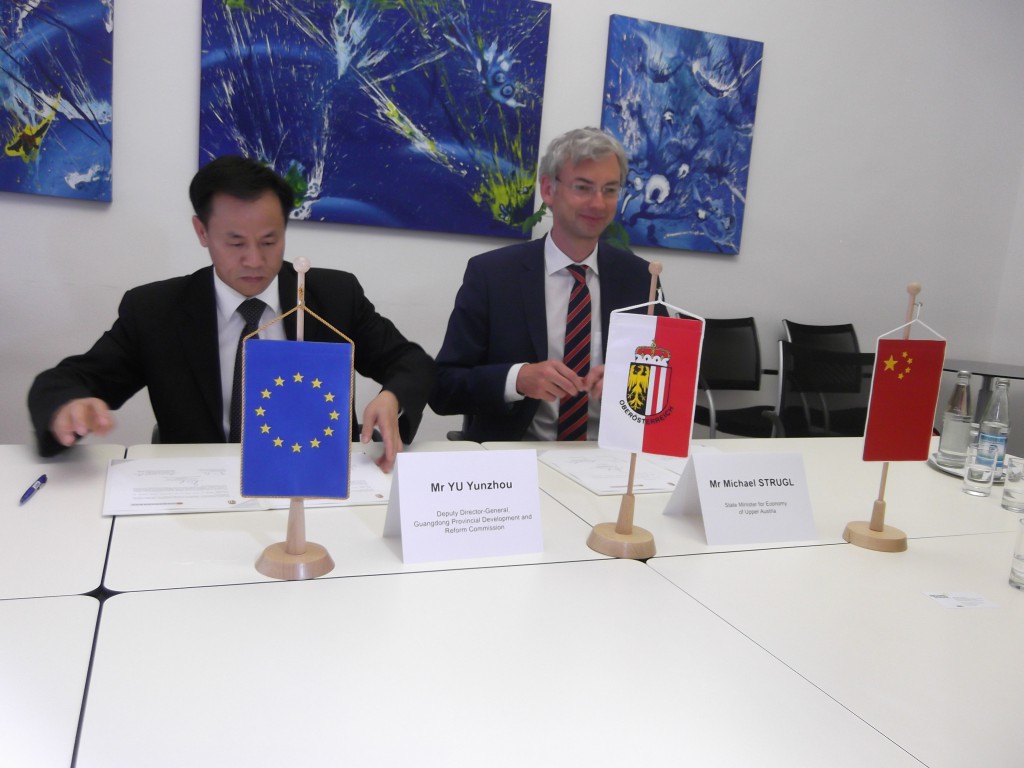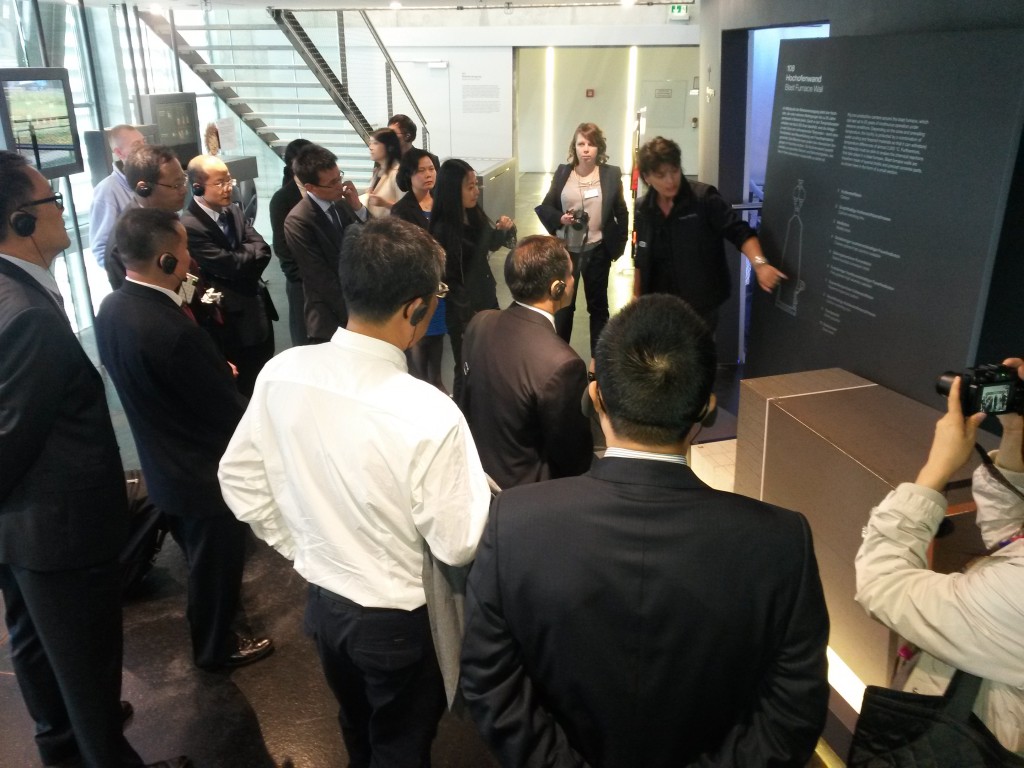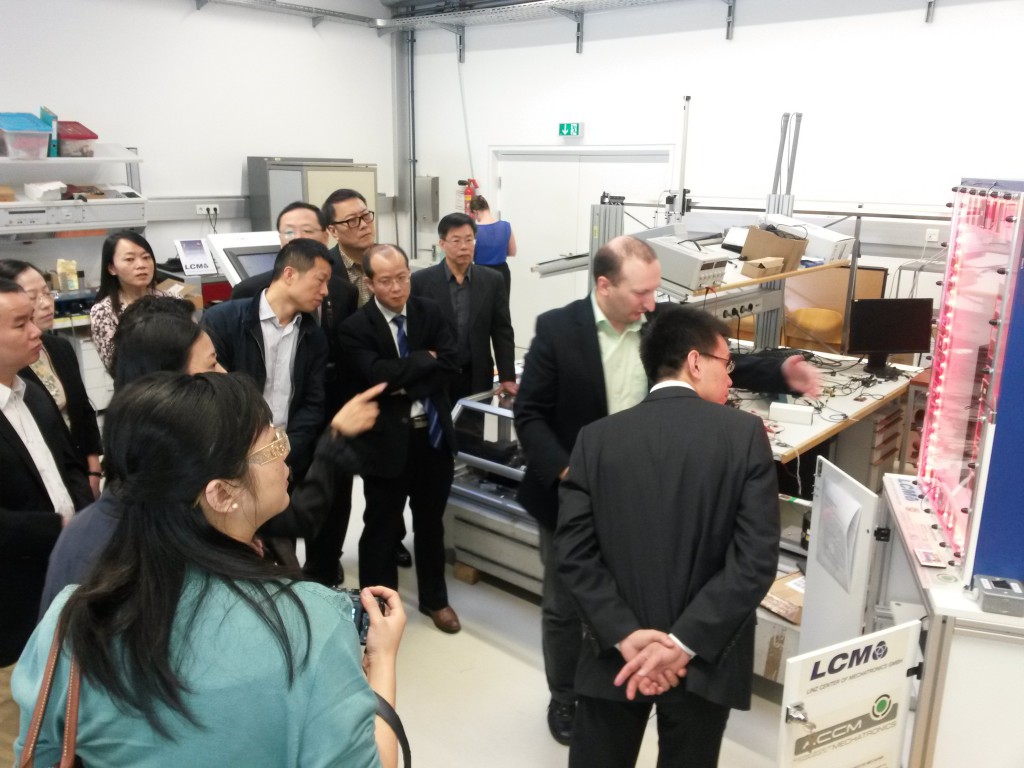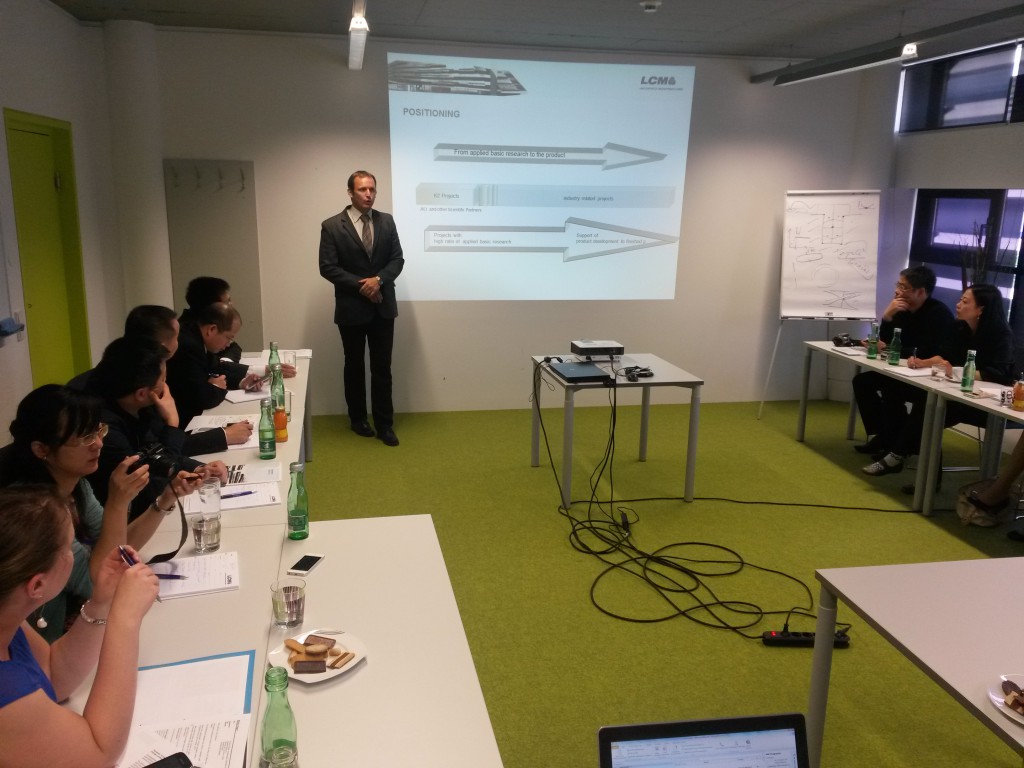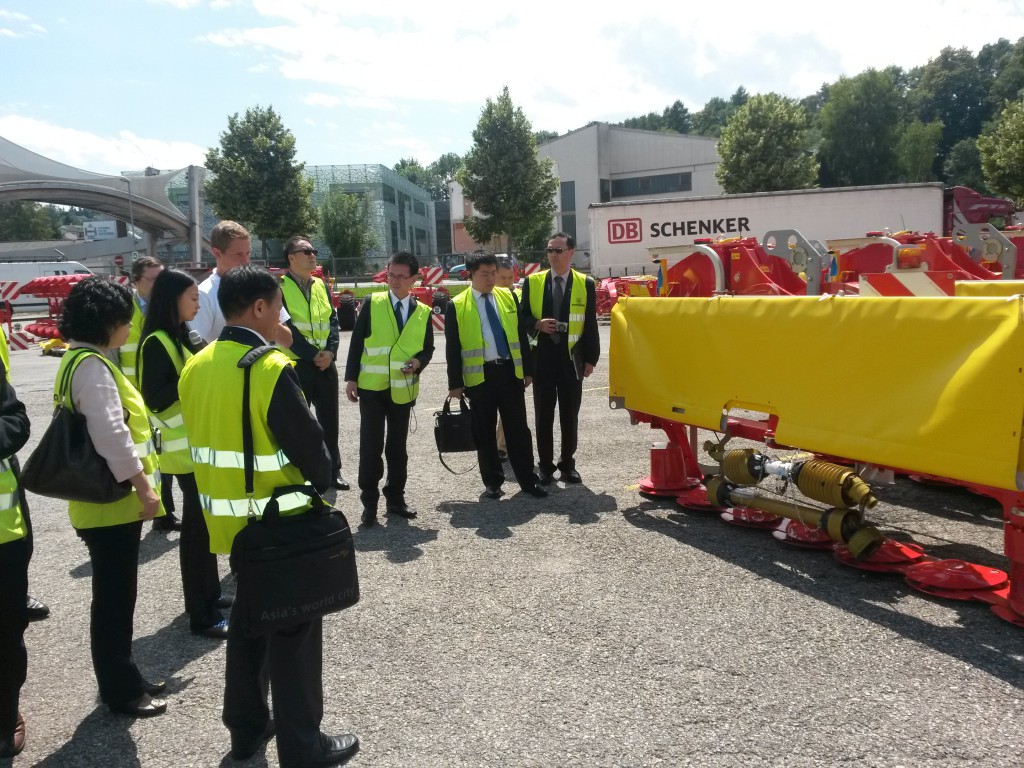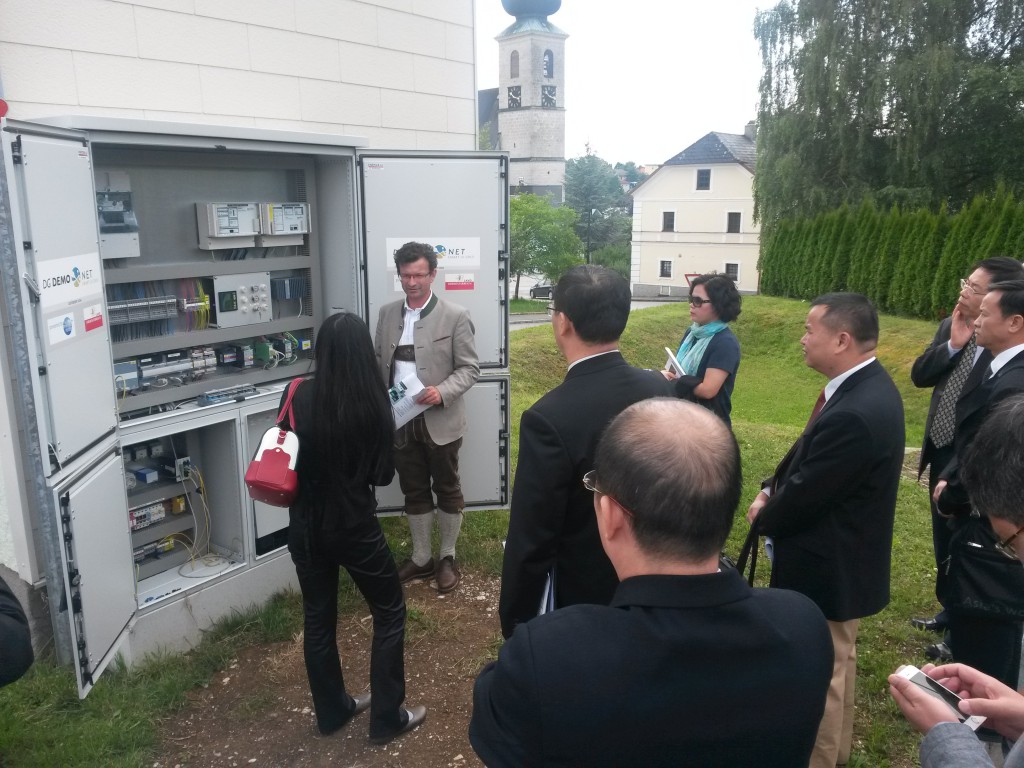 Meetings in Jena, Germany