A delegation from NDRC and DRC Tianjin visited Frankfurt and Lazio Region from 21 – 29 September 2015. The mission was headed by Mr Wang Jinhua – Director of Tianjin's Coordination Office in Beijing – and included representatives from business and government.
Meetings started in Frankfurt at the SAP exhibition booth during the International Automobile Exhibition (IAA). The software company SAP invited Chinese and European delegates from the UK and Spain to evaluate possibilities of cooperation in the smart cities and mobility area. Dr Norbert Koppenhagen, Vice President for Research & Innovation at SAP Innovation Center Network, introduced HANA, a urban platform for smart cities. The system offers an integrated application for citizens and policy makers in areas including traffic, urban development and disaster prevention. HANA is being promoted within the European Innovation Partnership on Smart Cities and Communities (EIP SCC).
Two further representatives from SAP, Rainer Bildmayer – VP for Smart Cities at SAP Innovation Center Network and Evan Ni, Head of SAP Innovation Center China, participated at the meeting. Mr NI introduced pilot projects currently implemented in the Chinese cities of Nanjing and Dalian.
Chinese delegates were able to see the SAP City App that comprises several services for citizens, public administration and business.
European representatives of the pilot regions West Midlands (Mark Schneider) and Andalucía Smart City Cluster (Daniel González) discussed with SAP experts and European Chinese colleagues about possible pilot projects in China and Europe in areas like traffic management and energy saving.
EU Commissioner for Digital Economy & Society Günther Oettinger also visited the SAP presence at the exhibition and discussed with experts about the smart-city platform.
Chinese delegates then traveled to Italy, where they absolved a three days programme in the Regione Lazio. Meetings in Fiuggi were chaired by the Mayor of Fiuggi, Mr Fabrizio Martini and included a round table with representatives from the R&D sector and the business sector (FIUGGI Water Plant). A letter of intent was signed between the Professional Institute IPSSEOA and the Tianjin Training School for a students' exchange programme.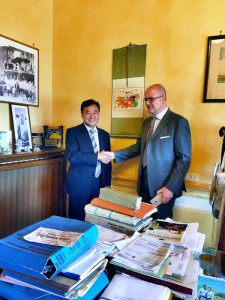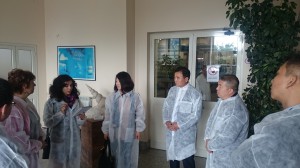 Chinese delegates also visited the Aerosekur plant (www.aerosekur.it) and explored cooperation possibilities in the aerospace & technologies for transportation areas. On the last day, a round table on Science, Technology & Innovation was held at the regional development agency Innova Lazio. The meeting was divided in three blocks:  Aerospace & Transportation; Security & Health; and Partnerships for Technology Transfer.
Participants' list here: World Cities Tianjin delegates Sept 2015
Programme here: Programme